C4FM FDMA / FM 2 Meter Mobile Radio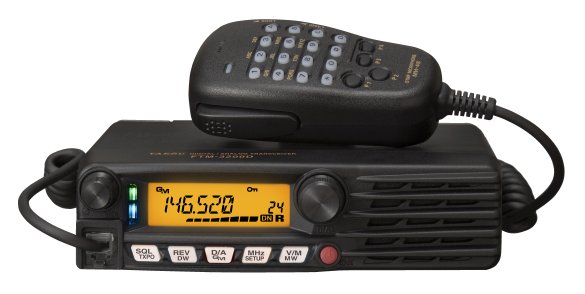 The new FTM-3200DR is a ruggedly built yet compact C4FM/FM VHF mobile transceiver, providing high output power of up to 65 Watts to ensure stable long-distance communications. One of the distinguishing features of this exciting new mobile transceiver is the Front Panel Speaker delivering 3 Watts of loud and crystal clear audio; designed for stress-free and enjoyable communications – even in noisy environments.
While the new FTM-3200DR is a solid and durable transceiver in keeping with Yaesu's legendary mechanical toughness, it also incorporates new technology such as Automatic Mode Select (AMS), one of the most advanced features of System Fusion. The AMS mode instantly recognizes whether a transmission is digital or analog, and appropriately switches the operating mode to allow flawless co-existence of both digital and analog users. The versatile FTM-3200DR transceiver also utilizes the ever-popular Digital Group Monitor (GM) function; a terrific asset allowing users to see at a glance if registered members of a group are within communication range.
Powerful and Rugged 65 Watt Transmitter
Enjoy 65 Watts of 2-Meter RF Output to ensure long distance communication even in the toughest of situations. Type: F1D, F2D, F3E: Variable Reactance Modulation, F7W: 4FSK (C4FM)
3 watts of Crystal Clear Front Panel Audio
In any environment enjoy loud and crystal clear audio with 3 Watts of audio from the FTM-3200DR's front mounted speaker. 8 Watt output using Optional External Speaker (MLS-200-M10)
Digital and Analof FM Capable
There is no reason to limit communications with friends who have not yet chosen to transition to Digital. The FTM-3200DR performs perfectly well using both Analog FM and C4FM Digital, and can flawlessly integrate into either operating environment.
Multi-colored BUSY/TX Indicator
Two large and vibrant multi-colored BUSY/TX LED status indicators clearly show the current operating state of the transceiver, turning Green when receiving an analog FM transmission and blue when receiving digital.
The top half lights green when in the BUSY/RX state.
The top half lights red during transmission.
The bottom half lights blue while receiving or transmitting digital voice signals.
The bottom half lights white while receiving or transmitting digital data.
The bottom half blinks blue when receiving the signal containing a different TONE frequency or DCS code other than the one configured.
Digital Group Monitor Function
The digital GM function automatically checks whether members registered to a group are within the communication range, and displays information such as the distance and orientation for each call sign on the screen. This useful function not only enables you to see which friends are within communication range, it also permits you to see at a glance where all group members are located. Additionally, this function can be used to send messages and image data between group members. The Digital Group Monitor applies to direct communications between members; it is not applicable through a repeater.
This is valuable feature for public service group activities, Search & Rescue operations, and any number of other uses limited only by your imagination!
Frequency Range
Transmit: 144 – 148 MHz
Receive: 136 – 174 MHz
Dimensions
Size: 6.1″ x 1.7″ x 6.1″ (154 x 43 x 155 mm)
Weight: 2.86lb (1.3kg)
Other Useful Features
220 Alpha-Numeric Memory Channels
CTCSS and DCS Encode/Decode
Extended Receive 136-174 MHz.
High Stability TCXO ±2.5 ppm
AMS (Automatic Mode Select)
DSQ (Digital Squelch Code) Signaling
Severe Weather Alert
Supplied Accessories
DTMF Microphone MH-48A6JA
USB Cable
Mounting Bracket
DC Power Cord w/Fuse
Operating Manual
Safety Guide
Warranty Card
Specifications
Circuit Type: Double Conversion Superheterodyne
IF: 1st 47.25 MHz, 2nd 450 kHz
Sensitivity (12dB SINAD): 0.20uV (HAM Wide), 0.22uV (HAM Narrow)
Sensitivity (Digital): 0.22uV (BER 1%)
Selectivity (-6/-60dB): 12 kHz/28 kHZ
Maximum AF Output: 3W @ 13.8V, 10% THD
Output Power: 65/30/5 W
Maximum Deviation: +5 kHz (Wide), +2.5 kHz (Narrow)
Spurious Radiation: Better than -60 dB
Microphone Impedance: 2k Ohms
Antenna Impedance: 50 Ohms
Operating Temperature Range: -4 Degree's (F) to +140 Degree's (F)
Related Files
Click here to be taken to the FTM-3200DR product page on the Yaesu website.